Gottfried Bohumir Lindauer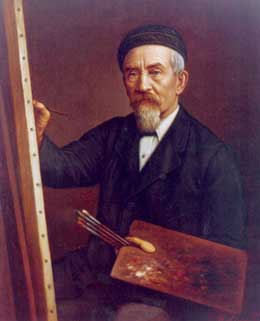 The Lindauer family arrived in Bohemia (Czechoslovakia) from Magdeburg in Germany in the 1600s. Upon arrival, they changed their name to Lindauer, which was derived from the Linden (Lime) tree, one the national symbols of Bohemia. The original family name is not known.
Gottfried (Bohumir) Lindauer was born on 5 January 1839 in Plzen. Plzen (Pilsen), an old gothic town, is famous for its Pilsner beer and is also home to the Skoda car works. The most outstanding landmark in the town is the 13th Century Cathedral of St Bartholomew.
Apprenticeship
In 1852 at the age of 13 Lindauer started a gardening apprenticeship with his father. Three years later, he travelled to Vienna, Austria to start his training as an artist. To supplement his income during his training, Lindauer painted for churches. In 1860, he was commissioned to paint for a church in the small town of Valasske Klobouky in Morovia. Lindauer completed around 21 paintings including eight murals some of which were two metres high. These paintings are kept in storage and are brought out and hung in the church once a year on July 5th for anniversary celebrations.
Lindauer was eventually called into the Reserves of the Austrian Army. However, he was not soldier material and ended up painting portraits of the officers' wives.
A wrong turn to New Zealand
He was again called upon to serve in the army in 1873 but after quarrelling with the officers, he took a year's leave of absence and boarded the first ship leaving Hamburg on 10 May 1874. He thought he was going to America but instead was headed for New Zealand.  He arrived in Wellington on 6 August.
Lindauer's life in New Zealand was nomadic. He travelled regularly throughout the country with Dr Walter Buller, attending Maori Land Courts and painting portraits of judges and solicitors. His first known painting in New Zealand was of Sir Ernest Davis' mother, in 1875.
Marriage
Lindauer was married twice. Very little is known about his first wife, Emelia Wipper, from Danzig in Germany. Emelia died in February 1880, six months after arriving in New Zealand, from peritonitis. Her death certificate states that the couple married in Melbourne, although research has failed to find any marriage records. It is possible that Lindauer painted in Australia.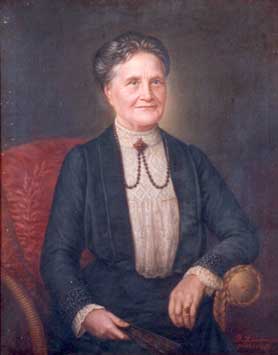 On 15 September 1885 Lindauer married Rebecca Petty (pictured), from England. They met while Rebecca was employed as a cook for Governor Sir William Jervois. They had two sons: Hector Cornell Partridge and Victor Wilhelm.
The Woodville connection
In 1889, Lindauer visited Woodville to purchase a section, but was unsuccessful.
The following year he returned and purchased a ten acre block in Pinfold Road, where he built his house and studio and grew grapes. A keen gardener, he spent a great deal of time landscaping and planting trees, many of which are still there today.
His house and studio also still remain but the studio is in a state of disrepair.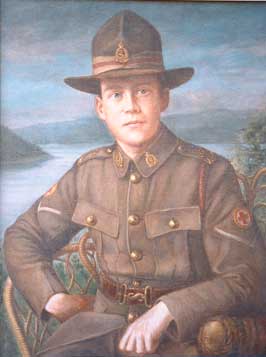 The artist passed away in his sleep, as had been his wish, on 13 June 1926 at his Woodville home. He is buried in the Woodville Old Gorge Cemetery along with his wife Rebecca and son Hector. Victor (pictured in World War I uniform) is buried in the Bay of Islands.
Lindauer's work
It is estimated that Lindauer painted around 1,000 paintings during his time in New Zealand. The majority of these are in private ownership. The largest collection, consisting of around 70 paintings mainly of Maori, is housed in the Auckland City Art Gallery and is known as the Partridge collection. The Buller Collection of around 20 paintings is in the Wanganui Art Museum, all of which are of Maori subjects.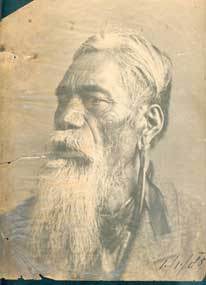 These two collections have led to the public perception that Lindauer specialised in Maori portraits, however, two thirds of his portraits in New Zealand were of Europeans, mainly landowners, public dignitaries, businessmen and their wives and families.